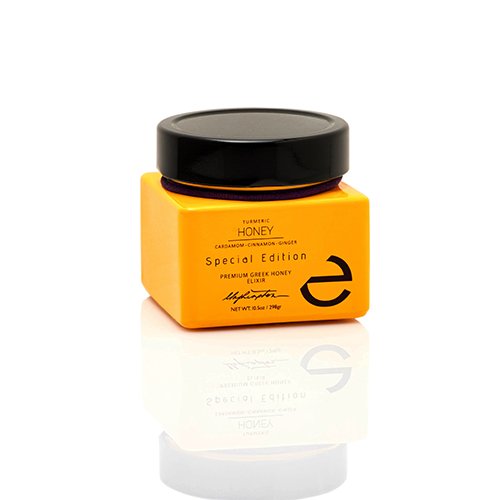 Golden Elixir, a product blending premium-quality honey,
turmeric, cardamom, Ceylon cinnamon and ginger.
'Eulogia of Sparta's rare, natural honey meets a unique "superfood" mix which adds slightly bitter flavor,
pungent and earthy aromas and brightly golden-yellow color.
This Special Edition honey contains multiple ingredients that may boost antioxidant
activity and it has important antibacterial, antimicrobial and powerful anti-inflammatory qualities.
TASTING NOTES
A unique turmeric – 'golden' honey spread, with a wonderful aroma, an enticing warm,
earthy-sweet and spicy flavor with lively and intense,
woody undertones.
100% Natural Greek Raw Honey & Turmeric, Cinnamon, Cardamom, Ginger
Non-GMO | No artificial flavors/colorings/additives
ADDITIONAL INFORMATION ▽
CRYSTALLIZATION Is a natural phenomenon, confirming the purity of honey
Shelf-life (minimum): 36 months after packing
Packaging: Glass jar
Dimensions 8 × 8 x 7.5 cm
Net Weight 298g
ORIGIN: Peloponnese, Greece
 FLORAL SOURCE: Chestnut, wild flowers, wild herbs
EXPERIENCE A HONEY LIKE NO OTHER
PAIRINGS
Stir into hot water for daily detox or add into warm almond milk
to simply make a soothing and comforting 'golden milk'
This 'golden' honey blend is exquisite on its own and
great when paired with a picante blue cheese like Roquefort.